What is FarmersOnly

When we think about online dating, the first thing that comes to mind is the urban and trendy population in major cities and metropolis. But what about those who live in rural areas?
Well, think again. Farmers Only is a niche dating site that caters to people located in rural areas such as livestock & agricultural owners, ranchers, farmers, just to mention a few.
Just as the name suggests, the dating site connects single country folks to find love, whether long or short term with people who understand their values and lifestyle.
Living in rural areas means that people are a bit further from each other compared to an urban setting; thus, the adult dating site acts as a link by connecting singles who are within proximity to each other.
For this Farmers Only reviews, we are going to take a detailed and in-depth look at everything about the site and whether it's just for fakes or real.
Is FarmersOnly Legit or scam?
Online dating sites have made everything easier, bringing all the convenience and simplicity straight to your doorstep. But, just like all dating sites, there is bound to be a fake profile, so new members are always advised not to reveal too much information that can result in emotional and financial loss.
The dating site has also been around for a while since 2005, making it one of the most popular dating services in its niche, genuine and legitimate with millions of active users looking for their ideal partner.
The only area of concern is there is no e-mail verification and approval, so the site doesn't guarantee that users are who they say they are. Other than that, the site is the perfect place to meet singles from rural areas.
Membership structure on the site
The adult dating site is the most popular in its niche; the site has over five million users worldwide. Of the total number, 80% are from the United States alone, a majority of the members on the site hail from English-speaking countries.
There are more than 20,000 users online at any given time, boosting your chances of getting potential matches. Its mobile app and desktop version attract more than 2.5 million monthly, further underlining the dating site's popularity.
According to research and studies carried out by FarmersOnly blog, the online dating platform is responsible for two marriage ceremonies taking place every week in the United States.
Sexual orientation
Most dating sites in the wake of sexual equality and preference have accommodated an openness and diversity policy, and FarmersOnly is no different. There is no discrimination on the platform as its open for all.
No matter your preferences, you are more than welcomed on the site to find your potential match. How amazing is that!
Age distribution
The dating site has a somewhat balanced user ratio between men and women; a huge majority of the members are between the ages of 25 to 34 years. The site has a stringent age policy and regulations; users have to be aged 18 years and above at the time of registration. The online dating platform caters to people of different ages above 18.
Registration process and log-ins information
The dating site has a short and easy registration process that can be done just under five minutes; there is a 4-question signing-up process that is not so much detailed and extensive.
To begin your registration process, users will be required to provide the e-mail address, age, zip code, choose your sexual orientation, and the orientation of those you would like to meet.
In the next stage, you will be asked to upload your photo, this is optional, and you can decide to skip onto the next stage.
With regards to logging in, your username and password will be autogenerated; this can be changed to something more familiar, which you can easily remember.
Profile creation

Customizing your profile is one of the most vital steps after registration, as it will provide deep insights into who you are and what you are looking for. Setting up your profile can only be done after you've successfully registered.
You can add more information about yourself on the profile section, such as appearance, character, interest, hobbies, habits, lifestyle, and so much more.
There is also a tag line and bio space where you can write something more about yourself, making you stand out and catch other users' attention.
There is no limit when it comes to uploading your photos; you can upload as much as you want. This can be uploaded directly onto the site from your PC or mail them to m8puvu@photos.farmersonly.com. Note that this can take up to a day.
Messaging system
FarmersOnly has multiple features that allow members to interact with and message each other. However, the only limiting factor about messaging is the fact that it's a reserve for premium members only.
Exchanging messages as a free member is quite limited, as a free member, you'll only be able to send flirts to show your interest.
There is a discover section, a yes or no liking game which displays members by their picture, location, age, or user name. You can either give a thumbs up to signal your interest or thumbs down to pass for every profile displayed.
There is also an e-mail inbox that contains all the profile logs and activities. Users can also pay $4.95 to convert all the site's messages into text allowing you to chat with other users privately while also keeping your mobile phone number confidential.
Platform variations used on the site
Desktop version
The FarmersOnly desktop version is quite simple and intuitive, it's very easy to navigate. Compared to other sites it's a bit flat and outdated which can be quite underwhelming at first.
All the menus and features are conveniently located on specific parts of the main page. People of different ages can use the desktop version, there is nothing extra-ordinary.
Mobile application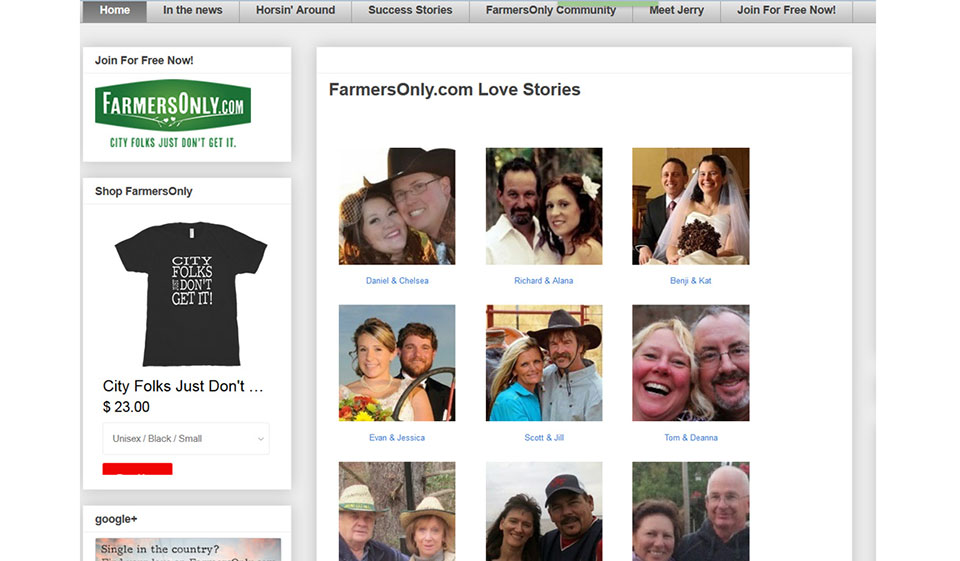 The FarmersOnline app is not available now, but the mobile version has all the desktop version features. It also has a yes or no liking game offering its users a wholesome and unmatched dating experience that is enjoyable and exciting.
Design and usability
The FarmersOnly has a simple and bland design; some may find it outdated. The main landing page has everything that you need from its features, menus, and buttons, allowing for easy exploration and navigation.
The account settings tab is at the left of the navigation menu, which enables its users to perform a wide range of functions as they browse through the site. When you want to message other users, there is a pop-up window which as allows you to compose and send your message.
The site uses three color options: blue, black, and white, allowing for easy visibility when browsing through the dating site. The site's simple design was meant to be inclusive, allowing users of all ages to use the site without any sort of limitation.
Navigating through the site
What stood out for me the most is the convenience and simplicity of the site; the main page does not have a lot going on. So, users don't need a lot of time to familiarize themselves with all the features and menus.
The search or discover features enables users to narrow down on potential matches via a filter system member with profile photos, age, distance, likes, and preference. The search results in a group of 15, providing you with the most interesting and compatible profiles.
The site also has a mobile version which is a more simplified version of the main website design with easy to use functions and features.
Once you've familiarized yourself with all the site's tips and tricks, users will have an easy and seamless time browsing through FarmersOnly.
FarmersOnly Cost and Prices

Signing-up on FarmersOnly is free, but with standard features comes with limited features that can hamper you in your quest to find your perfect partner.
But the good news is, the site also offers premium subscription offering you multiple features that will make interactive and socializing more enjoyable. There are two types of membership: Premium and Gold membership all at different prices.
The pricing is as follows:
Premium membership price
21.95 USD / Month for one month
13.32 USD / Month for three months
10.99 USD / Month for twelve months
Gold membership price
9.99 USD / Month for one month
The website also has a farm phone feature that will convert all your e-mails into a test for just 4.95 USD / Month.
Comparison between paid Vs free services
Fee-based services
Sending and receiving unlimited messages
Reading and replying messages on your mobile
Viewing who sent you flirts
Viewing last seen of other users
Uploading and posting unlimited photos
Blocking members
Free services
Free registration and profile creation
Browsing and searching through profiles
Viewing photos
Sending flirts
How to pay

FarmersOnly accepts some of the major payment methods making its premium services to most of its members. Some of the most commonly used payment methods include:
Credit Card
PayPal
Cheque
Via Mobile Phone
All the financial transactions are discrete, all your card statements can be viewed on "FarmersOnly Media Inc". For those who've paid via their credit cards can have their subscription canceled directly from the site.
For PayPal users, users have to first log-in onto their PayPal accounts, where they will receive instructions on how to cancel their subscriptions. Cancellation can be done whenever you want; there are no restrictions.
Payment systems
The payment procedure is quite simple and fast, which can be done right from your account. To pay for your subscription, this is some of the steps that should be followed:
Tap or click on the account settings located on the left side of the navigation menu
Choose your preferred subscription duration
Choose your preferred mode of payment
Ensure payment information entered is up to date
Once everything is set, tap on 'place order' and submit.
Safety and security
Safety and security are very important when it comes to online dating, and the site has implemented a raft of policies and regulations that ensure users are fully protected.
The site fully encrypts all personal and confidential information and prevent any unauthorized access by employing all the latest technologies like firewall, routers, and encryption software.
The website admins also monitor all the activities on the site looking for any suspicious activities for appropriate action to be taken. The site also has a vital block feature that allows users to block abusive or inappropriate members.
When signing up, users are always advised not to share any personal information or send cash to other members minimizing chanced of fraud or scams.
Special features

The site has some special features that make communication and social interaction thrilling; the quirky features are just synonymous with the fun nature of FarmersOnly. Some of the special features on the site include:
FarmersOnly Store
It is an online store where users can buy customized merchandise and apparel with the FarmersOnly logo. On the merchandise are bold taglines such as "City folks just don't get it!", popular sayings such as "No truck, no luck" to mention a few.
FarmPhone
FarmPhone is an exclusive feature that is only available on FarmersOnly which features a texting service. Users can sign-up on this feature by adding their phone numbers which will enable them to receive all the messages sent via their phones as text.
Members can either reply to these messages or block that user if they find them abusive or annoying. The texting service is a gamechanger as most dating sites don't have that feature. The FarmPhone is quite convenient allowing its members to stay connected while on the move.
Discover
The discover feature will present users with multiple profile pictures of other users where you can choose either 'thumbs up' or 'thumbs down'. Only members who are within your age range will be displayed on the discover section.
In case someone likes your photo, you'll be able to see their username under the "Who Like me" tab. The discover feature is essential as it enables users to see potential matches' physical appearance, ensuring they meet their preferred requirements and wants.
Conclusion

Just as its name, the site has a specific target audience, but this does not mean that users from other places cannot successfully sign up on the site.
There are many users who don't have farming experience at all, even though they make up a minority on the site. Still, they are looking to forge relationships, either casual or long-term, with individuals from rural areas.
At first, you might think the site is a bit outdated due to the flat and bland design or its quirky personality that can be a turn-off. But, don't be too quick to judge, the site might surprise you once you get to use the website and familiarize yourself with the entire layout.
Even though the site has millions of users, the site requires an account upgrade to access even some of the most common features that are free in other dating sites. So, if you looking to find your perfect farming partners. Then you should try FarmersOnly!